Julie Havelock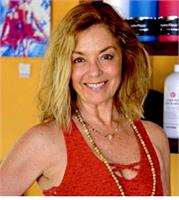 I attended my first Bikram yoga class to stretch out and give therapy to my sore muscles and back pain. I immediately became hooked. I had never before experienced a total body workout that gave me so much energy and such a complete sense of wellbeing. I became convinced this style of yoga was the key to superior health and wellness. An unanticipated but important bonus was how much this yoga was helping my sleep, moods, blood pressure, stress level, cholesterol levels, and countless other things I couldn't see or feel.Through all my trials and tribulations, yoga has always been a source of solace for me.My goal is to bring the healing of yoga to anyone who wants to be apart of its community. I hope you find Purely Hot Yoga to be a friendly and supportive place. I hope you discover the healing, sense of peace and well being that so many others have found through this practice.
Julie Havelock instructs the following:



Bikram Yoga




This 90 minute class still has the 26 Bikram postures you know and we've added a few more to work on arm balancing, strength and flexibility of hips and shoulders. Beginners are WELCOME and encouraged to attend this class.